Difference between 3 star and 5 star AC
The main difference between 3 star and 5 star AC is the energy consumption is less in a 5 star AC, thus with a 5 Star AC you use less electricity and the monthly electric bill will be less. How much less electricty bill will be using a 5 Star AC instead of a 3 Star AC will depend mainly on the time of usage or number of hours you use the AC in a month. The best way to show the difference between 3 star and 5 star AC is to show the calculation of the difference in savings that could be possible by buying a 5 Star AC Vs a 3 Star AC. If you need to know what the new AC Star Rating is in India, we have a dedicated page explaining what star rating of inverter ACs mean
Difference between 3 star inverter AC and 5 star inverter AC
The following table gives the minimum ISEER values required for an inverter AC to become either a 5 star or 3 star rated inverter AC.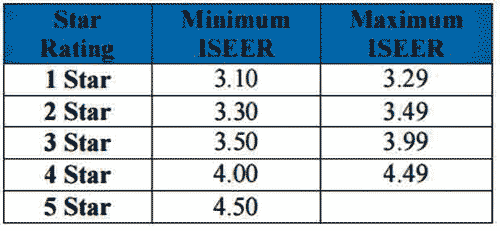 As per the table above, for a five star inverter AC the minimum ISEER value has to be 4.5 and for a 3 star inverter AC the minimum ISEER value has to be 3.5
ISEER assumes the time an inverter AC is used in a year is 1600 hours.
Assume Cooling load is "C" and the electricity consumed is "F" for 5 star and "T" for 3 star
The cooling load "C" required will remain the same for both the 5 Star and 3 Star inverter AC in this example.
Thus for 5 star AC
ISEER Value = Cooling load ÷ Electric load
4.5 = C ÷ F
Therefore electric units used by 5 Star inverter AC, "F" = C ÷ 4.5
Similarly electric units used by 3 Star inverter AC, "T" = C ÷ 3.5
Ratio of annual electric bill of 5 star to 3 star inverter AC
= C÷4.5 : C÷3.5
=1÷4.5 : 1÷3.5
converting to decimals
=0.2222 : 0.2857
dividing both by 0.2222
= 1 : 1.2858
Power saving with 5 star inverter AC
Therefore, in theory the annual 3 star inverter AC electric bill will be 28.58% more than a 5 star inverter AC.
In this example if the 3 star inverter AC electricity electric bill comes to Rs.1,000 per month, the 5 star AC electric bill will be Rs.778, a saving of Rs.222- per month or 22.2% saving in electricity bill with a 5 star inverter AC compared with a 3 star inverter AC.
Cost to run inverter Air Coditioner per hour
Since in the number of hours assumed to be run for the ISEER calculations is 1600 hours, then you can easily know the air conditioner power consumption per hour if the annual power consumption figure of an AC is given in their specifications. You just have to divide the annual power consumption by 1600 to get the hourly power consumption of an AC or the cost to run Air Conditioner per hour.
Advantages of 5 Star inverter AC over 3 star inverter AC
Note that the 3 star vs 5 star inverter AC power consumption differences shown here are theoretical figures. It should also be noted that inverter ACs with 5 Star rating has many advanced technologies built into them to reduce electric consumption, like to automatically off the AC when there is no one in the room, and/or to increase the thermostat temperature by 1 degree C every hour if the sensor in the AC detects that the sleeping person is not moving, and/or sweeping periodically the inverter AC air filter with a built in automatic brush, etc. All these additional features make a 5 Star inverter AC considerably more expensive than a 3 star inverter AC.
Buying a 5 Star inverter AC for sure makes sense if it is used 24×7, but for users who use their ACs sparingly and during the night while sleeping, it may not make sense to go for a 5 star inverter AC. If the inverter AC is only used during night time, when the outside temperatures are much lower than the assumptions on which the ISEER calculations are based, then the savings with the 5 Star inverter AC may not be that much.
Advantage of Online buying of Home Appliances
Whatever Home Appliance you plan to buy, it is best to first do an online research about all available types and models on the leading online retailers in India, namely Amazon, Flipkart and Snapdeal. The advantage of first doing an online research about products you plan to buy is that you get to see all the available models of the product and you get to compare prices online. After this you can go around to the showrooms and do window shopping.
You should then decide to buy from the cheapest and most reliable source. When buying online, you can be sure that you will not get fake products and you are assured of after sales service. This is because the giant on-line retailers arrange for delivery to your house directly through the manufacturers of the product. Due to the high volume of business from the big online retailers, all manufacturers will make sure that any delivery on behalf of the big online retailers are of the best quality and that after sales service is provided on a priority basis.
If ever you have any problems, then you can go back to these online retailers and complain. All of these big online sellers have a reputation to keep and they always make sure that all complaints are promptly solved.
Advantage of buying AC, Fridge, Washing Machine, etc. online
Buying online fridges, washing machines, dishwashers and other major kitchen appliances is now the better option in India, just like it is in the USA and other advanced countries. There are several advantages of buying online. First of all, you get unbeatable bargain prices. Secondly, you get new and genuine products. Other benefits include no interest EMI payments, able to return the product for a full refund if not satisfied, etc.
Just to give you an example, below are some of the benefits Amazon India, the leading global online retailer, offered in India during their last sale. The same deals are not always available, but it is a good idea to check this link to the special offers page on Amazon.in India website.
30 to 50% off on ACs, Fridges, Washing Machines, Microwaves, Small Appliances, Chimneys, etc.
Up to Rs. 10,000- off in Exchange
No cost 0% EMI
10% Cashback on CitiBank Cards
100% Genuine Products
Pre-Scheduled Delivery and Installation