What is star rating in refrigerator in India?
The reason to buy a star rated fridge in India is because it is a gurantee that the fridge has been tested to run using less electricity and it will save you on the monthly electricity bill. The highest star rating for a fridge in India is 5 Stars. The higher the star rating of a fridge the more you will save on electricity usage by the fridge.
Anyone in India, who can afford it, has a Refrigerator or a Fridge in their house. Fridges consume electricity 24×7 and, in all probability, will be the single highest electric power consuming item in a house in India. So it is essential to have the latest, most efficient fridge in your homes.
Why buy star fridge? Fridge star rating meaning
To encourage the use of high-efficiency electrical gadgets in India, the Government of India, in May 2006 set up the Bureau of Energy Efficiency (BEE). Almost immediately BEE started implementing a Star Rating program in India for refrigerators. Higher number of stars are given to more efficient fridges. So, a Star rating means how efficient the fridge is, the more the number of stars, the better the fridge is.
Under the Star Rating program of BEE, stars are awarded to Refrigerator models under each volume category – that is for example 200 to 300 litre Fridge, etc. The maximum number of Stars a Fridge can have is 5 stars. More the number of stars meant a higher efficiency fridge which consumes less electricity. So, for example, a five star 250 Liter refrigerator from any manufacturer consumed the least power in the 200 to 300 litre capacity fridges.
Labeling of fridges with their star rating became compulsory in 2010 for no-frost refrigerators in India. Below is a sample of the BEE Star Rating label.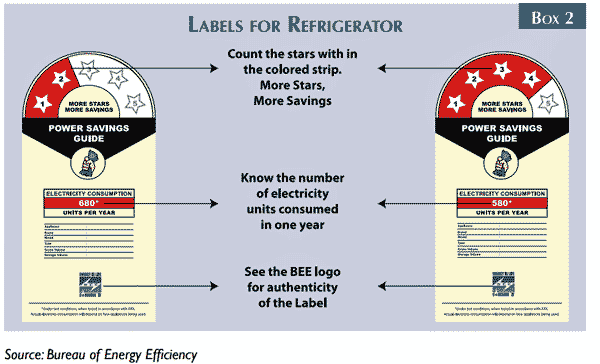 A 5 Star fridge will have more efficient compressors, like inverter compressors. A five-star refrigerator will also have much better insulation of the body to avoid heat losses, or to put it another way, better insulation to prevent heat from outside the fridge to get into the colder inside of the refrigerator.
So a 5-star fridge will be more expensive to buy. But every month you save on electricity costs, and in a matter of a few months, the extra cost of the 5-star fridge will be recovered by savings in electric charges. After that every month you are saving on the value of the 5-star fridge, and within about three years you will save the complete cost of the 5-star fridge – in effect the 5 star fridge becomes free. The table below shows a real-life example of savings with a 5-star fridge and shows the payback period.
Note that in the table above, the price of electricity per unit is only Rs.2.50. This is an old rate. Now in India you have to assume the electric power per unit rate to be at least Rs.5-. But also the price of Refrigerators in India has gone up. So in effect the table above may be giving accurate payback time.
Are fridge options worth the money
When buying a fridge, you must also take into consideration the following facts.
You have to assume that a new fridge will last ten years. So you are losing 10% of the value of a refrigerator every year. You also have to calculate the interest rate. Assuming a long-term FD fetches 8% per year, we will do the following calculation for every Rs.10,000- spent on a fridge.
Depreciation per year on Rs.10,000- = Rs.1,000-
Interest per year @ 8% on Rs.10,000- =Rs. 800-
Total =Rs.1,800-
This means that per month, for every Rs.10,000- spent on a fridge, you are losing Rs.1800 per year or Rs. 150- every month. Since a fridge is a must, you have to anyway buy the basic model. So for example, if you need to buy a 300 litre fridge, you can get a basic good fridge of 300L at a price of about Rs.20,000-.
So you cannot avoid spending Rs.20,000-. Now say you want to buy a 5 Star 300 litre Fridge and it costs Rs.10,000- more, then you must consider whether the extra Rs.10,000- will save Rs.150- worth of electricity per month. At Rs. 5- per unit of power, Rs.150- is equivalent to 30 units per month or 1 unit per day. So, say if you spend Rs.10,000- buying a 5-star fridge, then make sure the 5-star fridge saves at least 1 unit of electricity per day compared to the basic unit. The best way to know the electric consumption of star rated fridges is to look at the star label which is stuck on the door of all star rated refrigerators. When buying online, ask the question about the electric consumption, and they will email full specifications including electricity consumption of fridges selected. This way it is easy to compare the power consumption of refrigerators.
We recommended in our page 3 star vs 5 star AC that buying a 5 star AC does not make much sense if you are using it sparingly, but a fridge, on the other hand, works 24×7 and models that consume less electricity should be considered.
Advantage of Online buying of Home Appliances
Whatever Home Appliance you plan to buy, it is best to first do an online research about all available types and models on the leading online retailers in India, namely Amazon, Flipkart and Snapdeal. The advantage of first doing an online research about products you plan to buy is that you get to see all the available models of the product and you get to compare prices online. After this you can go around to the showrooms and do window shopping.
You should then decide to buy from the cheapest and most reliable source. When buying online, you can be sure that you will not get fake products and you are assured of after sales service. This is because the giant on-line retailers arrange for delivery to your house directly through the manufacturers of the product. Due to the high volume of business from the big online retailers, all manufacturers will make sure that any delivery on behalf of the big online retailers are of the best quality and that after sales service is provided on a priority basis.
If ever you have any problems, then you can go back to these online retailers and complain. All of these big online sellers have a reputation to keep and they always make sure that all complaints are promptly solved.
Advantage of buying AC, Fridge, Washing Machine, etc. online
Buying online fridges, washing machines, dishwashers and other major kitchen appliances is now the better option in India, just like it is in the USA and other advanced countries. There are several advantages of buying online. First of all, you get unbeatable bargain prices. Secondly, you get new and genuine products. Other benefits include no interest EMI payments, able to return the product for a full refund if not satisfied, etc.
Just to give you an example, below are some of the benefits Amazon India, the leading global online retailer, offered in India during their last sale. The same deals are not always available, but it is a good idea to check this link to the special offers page on Amazon.in India website.
30 to 50% off on ACs, Fridges, Washing Machines, Microwaves, Small Appliances, Chimneys, etc.
Up to Rs. 10,000- off in Exchange
No cost 0% EMI
10% Cashback on CitiBank Cards
100% Genuine Products
Pre-Scheduled Delivery and Installation