About the author of this website: AchaHome.Com
Most visitors to my website want to know what my background is and what qualifies me to write and give expert opinion about home appliances. So this 'About me' page has details of my education, my work and my life experience which qualifies me to make an expert website about home appliances and home safety.
To summarise, I am a retired 75-year-old grandfather with a B.Tech (old B.Sc. Engineering or BE) in Mechanical Engineering (Graduated in 1968) from one of the Government of India's NIT (National Institute of Technology, previously known as REC or Regional Engineering College). I also have post graduate management qualification (1970) in International Trade from IIFT (The Indian Institute of Foreign Trade, New Delhi), the premier Government of India Institute specialising in International Trade Management, where admissions are conducted by an all India selection process like IIM. I got a membership to the British Institute of Management - MBIM in the 1980s.
After a short stint with our family business, which unfortunately closed down due to labour and eventual financial problems, I went abroad to Dubai in 1979, to seek my fortune there. Worked in UAE (Abu Dhabi and Dubai) as the General Manager in a Company specialising in both Fire Protection and Water Treatment for almost 40 years (till 2018). When I joined this Company in 1979, it was just a small Trading company with about 10 staff members, trading in Fire extinguishers. I was the first Engineer employed by this company. When I retired from this Company after 39 years of service, there were over 1500 employees and we were one of the largest and best known Companies in the Middle East manufacturing a whole range of Fire Fighting and Safety Products and building big Water Treatment plants like RO (Reverse Osmosis) water purification plants to purify any water - from sea water to recycling sewage water and to any water in between. I am proud to say that I played a major part in building up this Company from a small trading Company to one of the largest group of Companies specialising in trading, manufacture, providing technical consultation and installing fire protection systems and water treatment, recycling and purification plants throughout the Middle East.
We built some of the largest Sea Water Reverse Osmosis Desalination plants in the Middle East. Also, we undertook projects to build large Sewage Treatment Plants making use of conventional as well as the latest technologies in this field, like Membrane BioReactors or MBR, Vacuum Sewage Collection Systems (the world's largest), etc.
We also have the largest Fire fighting products factories in the Middle East producing Ambulances, Fire Fighting Trucks, Fire Extinguishers and a whole lot of other fire fighting products which we install in the large industrial plants in UAE and surrounding Gulf countries. Here is a photo of me from one of our Exhibition Shows in 1982 explaining to a prominent Sheik of Duabi, Sheik Hasher, about our Fire Entry Suits - that is suits to protect firemen who have to go through real fires, like through an oil refinery fire around a valve which just has to be closed to stop the fire.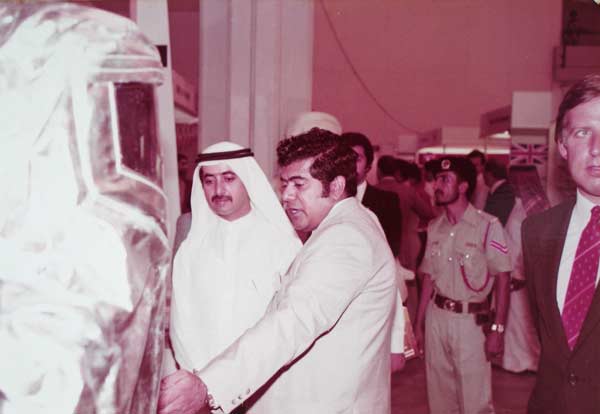 My interest in Home Appliances started out from my early days in UAE. I used to buy the latest gadgets whenever they were available and used to go to Embassy libraries to read up on the newest inventions and gadgets. When the first VCR (Video Cassette Recorder) came out in Dubai in the early 1980s, I was one of the first ones to buy it. Bought a VHS VCR from JVC (a PanaSonic Group Company) then considered the best VHS VCR, even though it was expensive because it was a new product introduced in the market. This was the time when there was a heated battle between Panasonic's VHS Vs Sony's BETAMAX format as to which was better. I was an expert on this subject and, one or two years later when the prices of VCRs had dropped sharply, all my friends used to seek my advice on which VCR to buy. I even bought a Sony Betamax camera at this time so that I could compare the two systems by myself. My wife used to think I was crazy to spend a fortune on useless gadgets. But she was very happy when I bought one of the first Microwave Oven (Hitachi) in 1985, again quite expensive because it was a newly introduced product. At this time people were scared of using Microwave Ovens with newspapers always writing articles saying it will cause Cancer. Curious visitors to my house wanted to see what a Microwave Oven was and we used to demonstrate it by heating a cup of water in a few seconds. These visitors used to stay far away from the Microwave Oven and even refused to touch the cup with the microwaved hot water! The common misconception among a lot of people then was that the microwave oven was full of radiation like in a Nuclear Reactor!
What convinced me about the safety of Microwave Ovens is my reading of magazines like Popular Science and Popular Mechanics, which I subscribe to even now (digital version), but in those days had to go to the American Embassy library to read it. So, what I am trying to tell my readers is that I know very well what I am talking about.
How I started authoring Websites:
About 13 years ago, I had a massive heart attack and was lucky to survive after having an open heart surgery. I was advised complete rest and took sick leave from the company for almost 6 months. During this period, I was so bored doing nothing, that I started using the internet. I was so fascinated with the capabilities of the internet, that I wanted to make my own web sites. This led me to learning web design and finally writing and making my own web sites. Some of the sites made by me are
Advantage of Online buying of Home Appliances
Whatever Home Appliance you plan to buy, it is best to first do an online research about all available types and models on the leading online retailers in India, namely Amazon, Flipkart and Snapdeal. The advantage of first doing an online research about products you plan to buy is that you get to see all the available models of the product and you get to compare prices online. After this you can go around to the showrooms and do window shopping.
You should then decide to buy from the cheapest and most reliable source. When buying online, you can be sure that you will not get fake products and you are assured of after sales service. This is because the giant on-line retailers arrange for delivery to your house directly through the manufacturers of the product. Due to the high volume of business from the big online retailers, all manufacturers will make sure that any delivery on behalf of the big online retailers are of the best quality and that after sales service is provided on a priority basis.
If ever you have any problems, then you can go back to these online retailers and complain. All of these big online sellers have a reputation to keep and they always make sure that all complaints are promptly solved.
Advantage of buying AC, Fridge, Washing Machine, etc. online
Buying online fridges, washing machines, dishwashers and other major kitchen appliances is now the better option in India, just like it is in the USA and other advanced countries. There are several advantages of buying online. First of all, you get unbeatable bargain prices. Secondly, you get new and genuine products. Other benefits include no interest EMI payments, able to return the product for a full refund if not satisfied, etc.
Just to give you an example, below are some of the benefits Amazon India, the leading global online retailer, offered in India during their last sale. The same deals are not always available, but it is a good idea to check this link to the special offers page on Amazon.in India website.
30 to 50% off on ACs, Fridges, Washing Machines, Microwaves, Small Appliances, Chimneys, etc.
Up to Rs. 10,000- off in Exchange
No cost 0% EMI
10% Cashback on CitiBank Cards
100% Genuine Products
Pre-Scheduled Delivery and Installation